Blog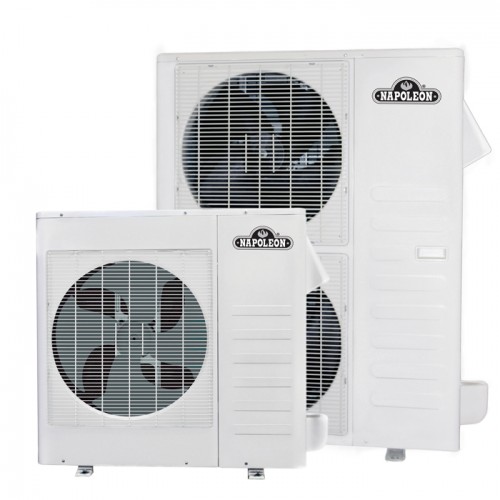 We have had an amazing run of hot weather here in Calgary this July. It has been so fantastic that even our evenings have been smoking hot, which is great for spending time on the patio, but not so great for sleeping. That's why we wanted to take this moment to remind you that Diamond Fireplace also sells air conditioning units! Supplied by Napoleon Heating & Cooling, they are perfect for those evenings that remain over 25 degrees Celsius.
Whatever your air conditioning needs are, we have you covered with three different types / sizes available. When outdoor space is limited, our side discharge until is ideal. The narrower design allows for more versatile installations in smaller spaces. The unit also creates less wind turbulence and more quiet operation compared to top vented models. With neighbours in close range this is a valuable feature you will both appreciate.
We also have ductless air conditioners, which is a cost-effective way to stay cool. These Ductless Air Conditioners are an excellent alternative to custom installed cooling equipment. With ZONE COOLING these units balance airflow until a desired temperature is reached and maintained to keep comfort and balance. With your choice of single zone, multi zone and energy efficient heat pump models you can select a unit perfect for your needs, keeping your costs low and efficiency high.
If you're looking for a full-size unit, we have those, too! When you're scrambling to meet the countless demands of your day, coming home and struggling to achieve a comfortable balance in your home's temperature is the last thing you want to add to your checklist. Napoleon's 13 SEER central air conditioning system cools and dehumidify indoor air to bring balance and efficiency to your home.
Whatever your needs for a cooling system are, we have you covered. Check out our website or visit us in store today. We guarantee you will sleep more comfortably tonight if you do!
Resources