Blog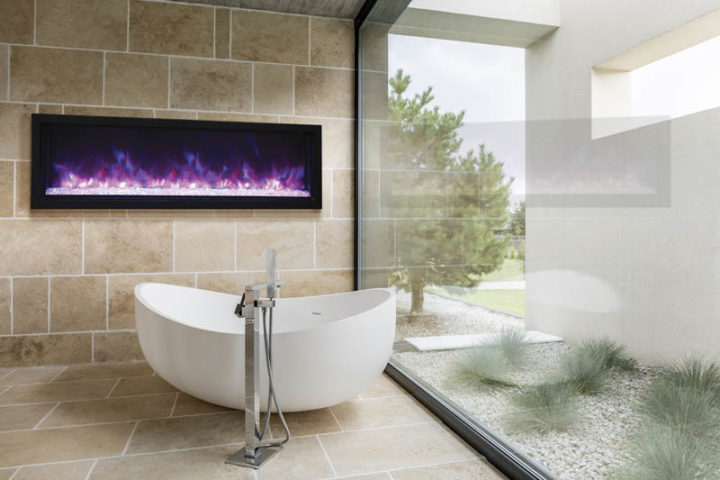 Before You Buy An Electric Fireplace Online – Read This Beginners Guide To Three Popular Options.
Electric fireplaces are growing in popularity as an easy and cost reduced alternative to installing wood burning or gas burning fireplaces. Before you buy an electric fireplace online, you'll want to keep reading.
Below you'll find a handy guide of the three most popular types of electric fireplace, their functions, pros and cons, price points and how to plan for installation.
Buy An Electric Fireplace Online: Options Under $1500 and 150 lbs
There are a few different types of electric fireplace, each with different features suitable for different scenarios.
The first is arguably the easiest to buy and install, and many models are available at the lower price points. Indeed, top quality brands are available under $1500 CDN.
The wall hanging electric fireplace can come in various sizes, some no bigger than a wall covering, yet heats up to 400 sq feet with a dazzling array of flame colours and insert options. Think rocks, faux logs, crystal rocks, faux embers and more.
Often placed on a focal wall, in place of a painting or photograph, electric hanging fireplaces have been described as moving art. A long time favourite of interior designers, hanging fireplaces add an element of "wow" to just about any space in a a home or office.  
The larger models, up to an incredible 100"  long, are often used for bigger homes or commercial spaces, in waiting areas or at reception.
If you're looking for the a modern aesthetic that provides the ambiance of a fireplace with minimal inconvenience or effort, this may be the best kind of electric fireplace to buy online.
Another pro to this type of electric fireplace is that they don't usually weigh that much, under 150 lbs even for a 72" length, which means it can be shipped inexpensively and in most cases you won't need a professional installer.
You'll still want to follow the installation instructions carefully though; ensuring you are following framing, clearances, and proper electrical requirements. Each model will come with it's own specifications that we recommend you read prior to purchasing your electric fireplace online.

The last thing you want is to learn on the day your fireplace arrives that your space isn't suitable for what you had envisioned.

Buy An Electric Fireplace Online: Double Sided
Double sided fireplaces provide two times the coziness and glow of a one sided fireplace.
A double sided electric fireplace is the next step up in investment and logistics, but in our opinion, the end result is well worth it for the additional benefits:
Space & Light:
A two or three sided electric fireplace provides one of the most appealing ways to divide two rooms while maintaining a spacious, airy feel.
Anchor Point:
Completely open concept spaces can feel unanchored without a focal point. A double sided fireplace can unite living and dining spaces by drawing the eye to the glow of the customizable flames.
Privacy:
A clever way to let in some light and space without compromising privacy, a double sided fireplace is a favorite go between from master bedroom to ensuites to walk in closet.
Logistics of a double sided fireplace:
The two sided fireplace will provide heat for a 400 – 500 square foot space, and like it's wall hanging cousin doesn't require gas hookups. The dual or triple sided fireplace is designed to sit flush to the wall, so it will require professional installation in drywall, a stone mock chimney or other surface.
Surprisingly light, many models of dual or triple sided electric fireplace still fit under the 150lb weight we consider relatively easy to deliver and move.
Priced from two to three times the price of the wall hanging electric fireplace, you can still get incredible value from some of the top manufacturers like Napoleon and Amantii.
Buy An Electric Fireplace: An Insert
What is an electric fireplace insert?
Inserts are inserted into an existing wood burning fireplace
An insert mimics the more traditional styling of a hearth than the wall hanging electric fireplaces.
Typically, inserts are more square than the rectangular shape of the linear wall hanging electric fireplaces.
These are a great solution to those who no longer wish to use their wood burning fireplace
They require more logistical installation considerations than the wall hanging fireplaces, but less than the dual sided;  they're a nice in between option.
If you're converting from a wood-burning fireplace you'll find an insert considerably warmer, less effort to use and more energy efficient.
Sizes are typically around 33' to 40' and they can still weigh below 150lbs.
Buy An Electric Fireplace: Do Your Homework
Whether you choose a wall hanging, multi sided or insert, before you buy an electric fireplace online, confirm the shipping costs and timeline, whether or not you'll need to pay taxes, what happens should the electric fireplace arrive damaged, what the return and warranty policy is as well the reputation and reviews of the supplier and manufacturer.
You should be able to enjoy your investment for years to come, so as a rule and where possible, opt to spend a little more for a reputable brand.
Diamond Fireplace in Northeast Calgary has been serving Calgary and surrounding area for over 30 years. Their extensive showroom, award winning service and great after sales service has made Diamond Fireplace Calgary's choice for electric fireplaces.
DISCLAIMER: This article is intended as a summary of electric fireplace options and isn't shouldn't be construed as professional advice appropriate for every situation.  Do your research and always read the safety precautions and user's manual prior to purchasing and installing a fireplace to ensure you understand and consent to the requirements and safety precautions required to operate your fireplace. Some electric fireplaces you can buy online will require framing and should have a dedicated line to ensure safety. do your research and ensure the fireplace.
Resources